Art School, Backwards
Art School, Backwards was a collaboration between APR and Kingston School of Art Short Courses, an experimental workshop, conceived as a strategy for unpicking dominant modes of thinking, ingrained behaviours and approaches to learning. This 3 days workshop series took place from 27 – 29 July.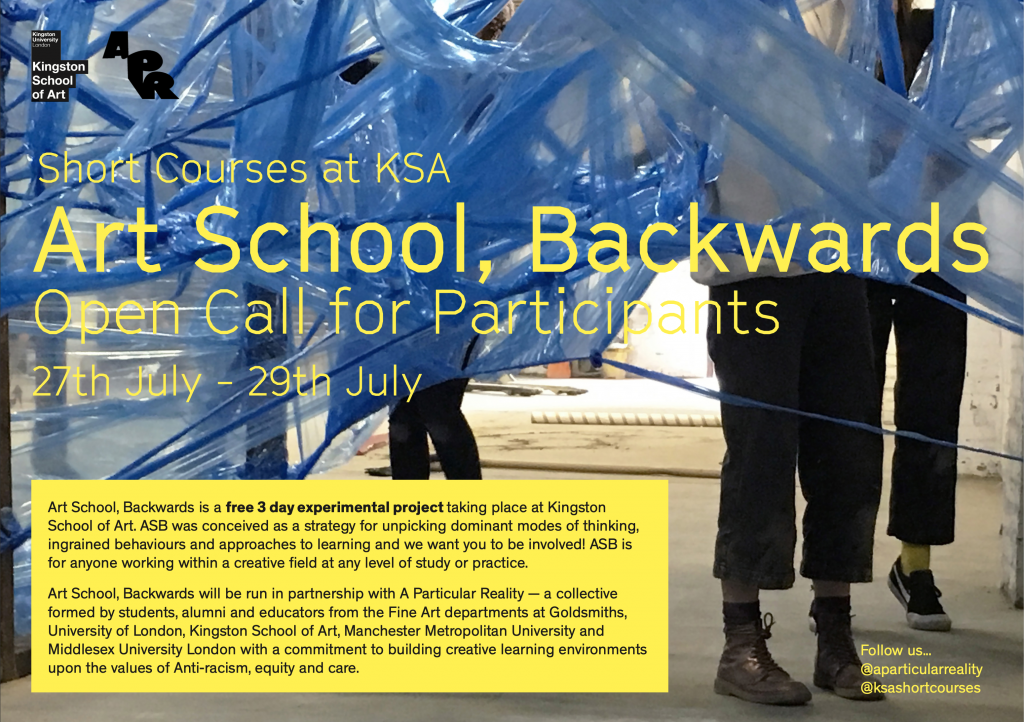 Day 1: The first day was modified to being an online Meeting rather than in person, due to the train strikes. All the participants collectively unpacked methods through charcoal drawings, comfort zones and exclusion in galleries, education and arts institutions; through a selection of practical and discussion-based activities.
The participants were asked to bring an object which made them 'excluded', which was later 'woven' with the provided material, hessian. During this process, the discussion around the topic of 'exclusion', what does it mean to be excluded and how can the act of weaving be interpreted with a varied range of materials. The outcome of this activity was shared on the online platform.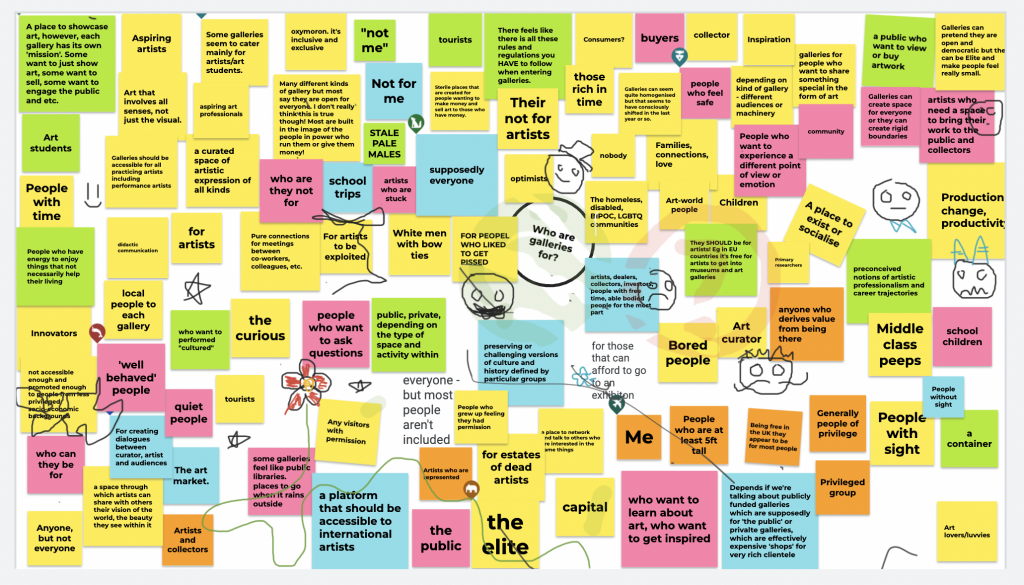 Day 2: Murat Adash started the day with a movement workshop, and conversation exercises in pairs. The workshop first began with the 'Zoom In and Out' exercise, where participants were asked to observe the body as well as the surroundings in which the body existed. The findings of this activity were then discussed with a partner, the question which had to be answered – "What is the thing/ thought/feeling which presented itself to you while doing these activities?" This was discussed in a group.
In the afternoon, the session was divided into multiple groups of 5-6 people 'plugged in' to some bags of clay, an activity led by Jo Addison and was inspired by an ultraviolet bath. An exchange of silence emerged while part of the body, an index finger, cultivated a space in a bag of clay. It was compelling to witness that the mind wanders in a world of its own while the body is engaged in "mind-less" activity.
Later, the clay was further distributed among the same group and participants created sculptures out of the wet clay. Francesca Telling made cyanotypes on sketchbook pages with participants, exposed with sunlight on clay sculptures. Afterwards, these undried sculptures were 'put back' in a blue bag creating a new form of its own.
Day 3: The day began by making a large-scale collaborative cyanotype with our hessian pieces made on day 1, as part of Francesca Telling's creative documentation of the course.
Next, we had an activity with lolly sticks led by Claire Undy, involving destruction, intention, objectives, intervention where participants sitting in a circle, given few minutes to 'construct' anything with the sticks and swapped places with another person where they were asked to intervene with/ destruct one another's structure. This exchange continued for a few rounds. In the group discussion, participants expressed that they either continued other people's thinking by continuing the same structure and some mentioned that it was challenging to think about what does it mean to destruct ideas, does it mean to destroy or discontinue or remove oneself from another was a destruction in itself?
Following this we rubbed out our charcoal drawings from day 1, inspired by Rauschenberg's 'Erased de Kooning', and questioned what remains once we have 'unlearnt' or erased ways of understanding we are taught. Thinking through this challenge of the 'white slate', Clementine Bados led a collective reading of Toni Morrison's 'Playing in the Dark: whiteness and the literary imagination'.
Throughout all the sessions of Art School, Backwards, it was captivating to witness how 'practical activities of making' were giving birth to an expansive range of discussions. The feedback which was received from the participants mainly expressed appreciation that ASB was focused on collectivism and the importance of questioning 'productivity' in the learning process which quite often is left behind in Art Schools. During this 3 days' workshop, it wasn't only Art School which was thought through in a backwards direction but ideas of productivity, success and pressure of creativity which comes along with this institution. Collectively, in Art School, Backwards, we unlearned, unproduced and rethought what schools should be.